As an avid runner I know how important having the right shoes are for not only speed and comfort, but also for preventing injury.  If you think about it, when running or walking, or just plain standing around, you need to protect your feet, as well your entire lower body from the pounding and strain that bearing all of your weight onto your feet will cause.
I have very flat feet, and when I have the wrong shoes, or even just staying on my feet for long periods of time, my feet hurt a lot, and I tend to compensate by alternating feet, or leaning, or standing incorrectly.  When I run with old shoes, or shoes that don't fit right, I feel a lot of knee pain the next few days.  All of these symptoms can generally be alleviated by wearing the right shoes, isn't that nuts!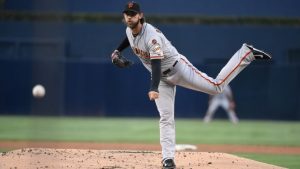 I was reading an interesting article the other day about a major league baseball pitcher, Madison Bumgarner, who had reported having severe numbness in his foot, to the point where he was on the disabled list.  The diagnosis was Neroma which is a really serious condition that essentially thickens the nerve tissue and in terms of Madison Bumgarner he thought he had Morton's Neroma which causes the area between the 3rd and 4th toes to go numb.  This is a very scary diagnosis and could have pulled him out of Baseball.
Luckily for Madison the story seems to have a happy ending.  During his stint on the disabled list he went looking for shoes to replace the pair he always wears.  The shoe store he went to was a store for "serious runner" so they checked his shoe size at first, when Madison asked for the shoe he wanted in a size 13 the salesmen told him he wasn't going to give him a shoe any smaller than a 15, as a 15 would be the right size shoe to be sized correctly.   Madison up to this point had always thought he was a size 13, and always wore size 13.  This is an example of why you really do need to make sure your shoes fit correctly, and heading to a real runners store would be the right option for everyone to find the right shoes to fit your feet so you won't get an injury while running.
Not only do I take this advice for my running shoes, of which I've had a number of people evaluate my feet and recommend shoes, but also for my leisure shoes as well.  It's hard to find the right heels as they aren't really meant for that, heels are meant to go with a dressy outfit, but I try to limit my use of heels.  For my our the neighborhood shoes I will often buy the most comfortable pair, and may even add inserts if needed to really make them even more comfortable.
Moral of the story is if you are a runner, or want to start running, please have someone evaluate your feet to help you find the right shoes.  The last thing you want is a long term injury, or to develop aches and pain that could have easily been avoided with a good pair of shoes.